Coaching Supervision – your space and time
What is supervision? Supervision is a space for regular protected time for facilitated, in-depth reflection on your coaching practice along with experimental learning. It is recognised as playing a vital role in coaching development, coach resilience ('bounce back ability') and CPD. Supervision is for people who work with people. It is a structured process for YOU, the coach to reflect on your practice. Just as a coach can help maximise the performance of a coachee, a good supervisor helps maximise the coach's performance through supervision. On a more human note supervision is an unfortunate word applied to this reflective practice and experiential learning, as the term 'supervision' has tones of being watched over and corrected. However if you split the word in two, super and vision, the process becomes clearer, super – overall helicopter view of your practise and vision – you the coach get vision or an alternative perspective on your practice. In order to ensure that the supervisee has  a safe place for supervision and gains the maximum benefit from the supervision sessions Maeve uses (amongst other techniques) The 7 Eyed Supervision Model (Hawkins, P., Shohet, R., Ryde, J. and Wilmot, J., 2012).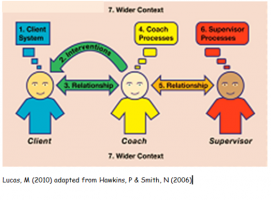 This is combined with the work of Proctor, B.  
Group Supervision: A Guide to Creative Practice
(2000) who regards supervision as 'a co-operative exercise in accountability'.  Proctor divides supervision into the following three areas: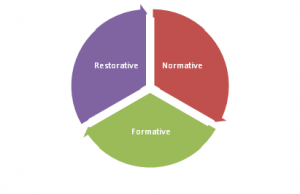 • Normative – the supervisor accepts and shares with the supervisee the responsibility for ensuring that the supervisee's work is professional and ethical. • Formative – the supervisor acts to provide feedback and / or direction that will enable the supervisee to develop the skills, knowledge and personal attitudes etc ensuring the supervisee works at becoming a more competent coach • Restorative / Supportive – the supervisor listens, supports, confronts the supervisee when personal issues, doubts, ethical issues and any other supervisee issues arises These three factors develop in coaches an in-depth reflection of their coaching practice along with their own experimental learning.
Supervision can be arranged with Maeve Finch of Total Focus in the following manner: Individual supervision 1-1 basis Group supervision usually a group of coaches who already has a high level of trust amongst themselves – approx. 4-5 coaches Organisational / in house supervision – because your organisation health manners.  This can be done on a individual and / or group basis or a combination of both
What is a supervisee?
A supervisee is a person or coach who comes to the supervisor for supervision.
Why should I bother with supervision?
Supervision is regarded as best practise. Most supervisees who attend regular supervision sessions are aware of an added bonus to themselves as coaches, to their coaching practise and their clients. Other benefits can be found in a report published by Hawkins, P.; Schwenk G.,  Chartered Institute of Personnel and Development (CIPD ) 2006 called 
Coaching supervision Maximising the Potential for Coaching 
.
Benefits of supervision for supervisees • It helps supervisees to identify their strengths and weaknesses • Keeps supervisees aware of ethical and professional issues • It identifies if any of the work being undertaken by the supervisee is starting a parallel process within themselves • It keeps supervisees up to date with changes within the industry • Enhances your own practise by challenging you as a coach • Helps the supervisee to become more self aware
How often should I attend supervision? As often as you think you need to. All coaching associations in Ireland including the LBCAI, AC, ICF and EMCC recommend that coaches are in supervision (in some cases supervision is mandatory for certain grades within these coaching associations) Maeve Finch of Total Focus Maeve  was awarded a Higher Diploma from Middlesex University studying with Dr Michael Carroll, (one of the most recognised global supervisors and trainer of supervisors). Maeve supervises professionals in the coaching industry and also those in other 'helping professions' in Ireland. She keeps up to date with supervision competencies by attending a supervisor for her own development & CPD, in  depth reflection and experimental learning. "Supervision is gathering the treasures of the past into the competencies of the present for the wellbeing of the future" The Soul of Supervision Carroll M 2010