Introduction to Coaching
From chief executives to the unemployed, from people with degrees to those who drop out of school unable to read, one thing is certain – everyone wants their life to be better. Whether it is additional finances, a successful career, promotion, more friends, a loving family, or increased health people want to bring about positive change in their lives. Coaching is a proven way of achieving this… 
Our professional executive leadership and personal coaches will also:
Examine with you ways of making positive, quick changes in your life to bring out the best in you in the shortest time possible.

Plan with you ways to step outside your comfort zones

Remind you that life is for living and that this is not a dress rehearsal.
But it is not all work, and we at Total Focus believe that you have to have fun and enjoy your life, on the way to achieving your goals. As the saying goes "all work and no play makes Jack / Jill a dull boy/girl", so we help find ways for you to incorporate romance, fun, and on occasion even love in your daily routine. We are very aware that sometimes the most important thing you need in life is a good sense of humour and the ability to lighten up!
Yes, you need goals!
Yes, you need to be motivated and challenged!
Yes, it is good to be ambitious but it is even more important to learn how to live your life now and not always in the future!
 Coaching is an in-depth solution-focused conversation with you where your thoughts, emotions,  behaviours and attitude; your values and beliefs are clearly heard by your coach.  So coaching is about YOU facilitating change and development.
Frequently asked questions What is coaching? Coaching is a conversation where you, your thoughts, emotions and behaviours; your values and beliefs are clearly heard by the coach.  So coaching is about you.
What is the difference between consulting & therapy VS coaching?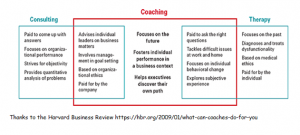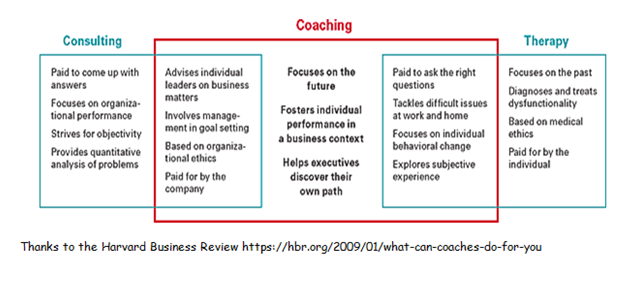 What coaching tools do you (Maeve Finch) use? Maeve Finch of Total Focus uses the Co-Active Coaching Model  (please note that other models are used where appropriate)  This means we work in the present while acknowledging the past and moving to a better future. The Co-Active Coaching Model s divided into two parts :  
During the Co part – I use the coaching skills of active listening, curious questions, connection and collaboration
In the Active Part 
I ask you (the person being coached) to draw deep on your own resources of action, your own willpower and self-reliance to take charge to achieve your goals and make changes in both your professional and personal life. There is also recognition that coaching does not happen in a vacuum; our environment whether it is organisational and/or personal is taken into account during coaching.
What happens during a coaching session? As already stated coaching is a conversation where you, your thoughts, emotions and behaviours; your values and beliefs are clearly heard by the coach.  So coaching is about YOU You may wish to be coached for a number of reasons and want to take steps to attain this goal. Coaching focuses on your needs and wants. You yourself hold the answers to your own situation. You are the focus of coaching; however, I, as a coach may not give you the answers you want to hear. I may introduce alternative perspectives and ask you to look at your own thoughts, emotions behaviours and attitude. You may not like it but this is part of the process and as you are in the driving seat you can ask me to stop at any stage in the session. You as the client will be expected to work during the time that you are being coached. This may include prioritising /achieving goals, gathering materials and information.
Types of coaching offered by Total Focus include:
Stress Coaching

Executive Coaching

Personal Coaching

Organisational Coaching / Team Coaching

Career Coaching

Conflict Coaching

Start your own Business Coaching

Coaching in the Community and Voluntary Sector
To find out more contact Maeve on 085 735 4446 or complete the enquiry form on the right-hand side of the page
Remember in coaching YOU are the agenda